On Thursday, Queen Letizia of Spain attended a meeting of the Board of Trustees of the Foundation for Help against Drug Addiction at Boston Consulting Group in Madrid.
The Foundation for Help against Drug Addiction is a private, non-profit, non-confessional institution working for its fundamental mission to prevent the drug consumption and other risky behaviours that impede or hinder the personal and social development of adolescents. The projects in this area of the FAD are aimed at improving the employability and educational levels of Latin American youth, prevent the social risks they face such as drug consumption or youth violence, promote a culture of peace and promote global citizenship.
Queen is the Honorary President of the "Foundation for Help Against Drug Addiction" which was held to discuss the activity report of 2018 and the main activities that are being developed in 2019, among other issues.  The main results of the digital awareness campaign "The Real Young", which is four months has reached more than four million young people through social networks, and that the FAD launched in January 2019, were the priority topics of the day.
For the day, Letizia chose a very professional and powerful look. She was wearing a white tailored suit from her favourite label, Carolina Herrera. The ensemble consists of a fitted blazer and wide-leg trouser.
We first saw the outfit in May 2018 at the presentation of the "Electronic Biographical Dictionary (DBE)", of the Royal Academy of History at the Royal Palace of El Pardo.
She paired the outfit with Magirt Cognac Leather Laura salons.
And finished her look with her Gold & Roses Crawler Skyline Earrings.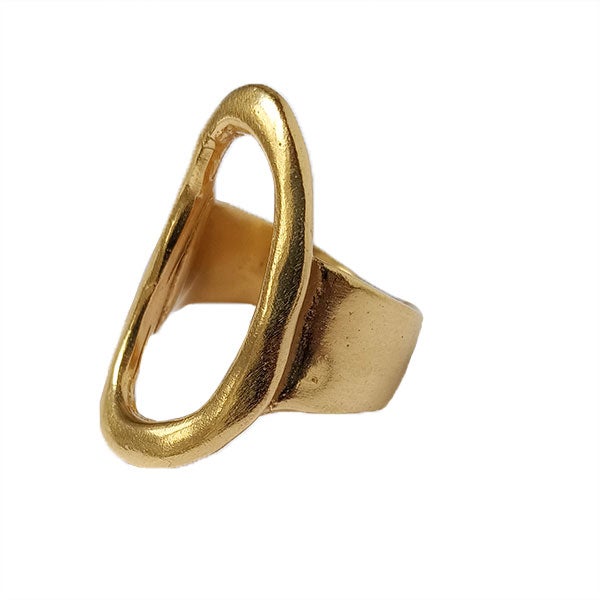 Finally, the mysterious ring that we have been seeing her wearing for last many engagements have been identified. Thanks to @LetiziadePaR on Twitter for the id. The ring was designed by the UK Born Spanish Designer Karen Hallam. The design of €114 ring that Letizia wore is described as "Unusual ring handmade in solid silver plated in gold."