Spanish Queen Letizia is an Icon of her own.  Married to King Felipe VI, Letizia is the mother of two adorable daughters, Princess Leonor and Infanta Sofia. Famous for her extremely private life, Queen Letizia of Spain is a source of inspiration to our young generation i.e. dignified, loyal, private, and successful and has been representing Spanish Royal Family on various domestic and international platforms.
Letizia was born on September 15 in 1972 in Oviedo, a town in the Kingdom of Asturias. She finished her initial school in Oviedo before her family moved to Madrid. The Spanish heir or heiress is titled Prince or Princess of Asturias. Letizia finished her Bachelor's degree in Journalism at the Complutense University of Madrid and her master's degree in audiovisual journalism at the Institute for Studies in Audiovisual Journalism. During her Master's degree, Letizia started working for ABC and EFE. After her Master's, she went to Mexico where she worked at the newspaper Siglo 21 while pursuing a PhD that she never finished and came back to Spain.
A PhD dropout Letizia Ortiz Rocasolano was already a well-known name in Spanish society because of her successful career as a journalist. After her return from Mexico, she started as a news anchor at CNN+ and Televisión Española. Letizia reported from ground zero on the 9/11 and Iraq wars.  Letizia married her boyfriend Alonso Guerrero Pérez in 1998 but the marriage lasted only 1 year and ended in divorce in 1999.
Sometime in 2001/2002, The heir to the Spanish throne, the then Prine Felipe saw Letizia Ortiz in news and ask his journalist friend Pedro Erquicia to introduce them. Pedro threw a party and invited both Felipe and Letizia to it. We never know much of the details of their love story but some interesting tidbits that we know are:
Felipe has Letizia's phone number by the time the party ended.
Knowing the interest and scrutiny Royal Family generates, Letizia initially rejected Felipe four times.
But the handsome Prince was persistent and finally got a date with Letizia and a great love story followed that date.
Felipe respected Letizia's wishes to keep their relationship under the radar as she was at the peak of her career.
After almost 2years of dating, in November 2003, Royal Palace announced their engagement, which came as a shock to the whole country and the international community. Nobody knew that the Spanish heir to the throne was even dating someone.
Tomorrow, #KingFelipe and #QueenLetizia of #Spain will be in Oviedo for the Annual Princess of Asturias awards.

A little-known fact is in 2003 few days before their engagement announcement the couple met at the same event and no one knew they were dating. #lovestory pic.twitter.com/WPZly3eqRF

— RegalFille (@RegalFille) October 27, 2022
Felipe proposed to Letizia with a 16-baguette diamond engagement ring with white gold trim. Letizia was the first commoner who married the heir to the throne and was set to be the Queen. She is also the first 'born-in-Spain' Queen.
Embed from Getty Images
Letizia left her job and moved to the Royal Palace of Zarzuela after the engagement announcement and lived there until her wedding day. The Couple got married in a lavish wedding ceremony on May 22nd 2004 at the Almudena Cathedral in Madrid. Madrid city saw a Royal wedding after almost a century.
The Bride chose a lovely gown designed by Spanish designer Manuel Pertegaz with a pair of bridal shoes by Pura López. The silk gown embroidered with real gold thread featured ears of wheat that represent fertility, abundance, and life, and the House of Borbón (Spanish Royal Family)'s dynastic symbol Lilies with a 15-feet long train.
Prince Felipe gifted his bride a matching veil made of off-white silk tulle and hand-embroidered with detailing.
The King and Queen, Juan Carlos and Sofia, presented the bride with diamond earrings that Letizia chose to wear on her wedding day. Letizia accessorised her wedding-day look with a 19th-century antique fan. Queen Sofia loaned her Prussian Tiara to Letizia for the wedding day. Sofia also wore the same tiara at her own wedding in 1962.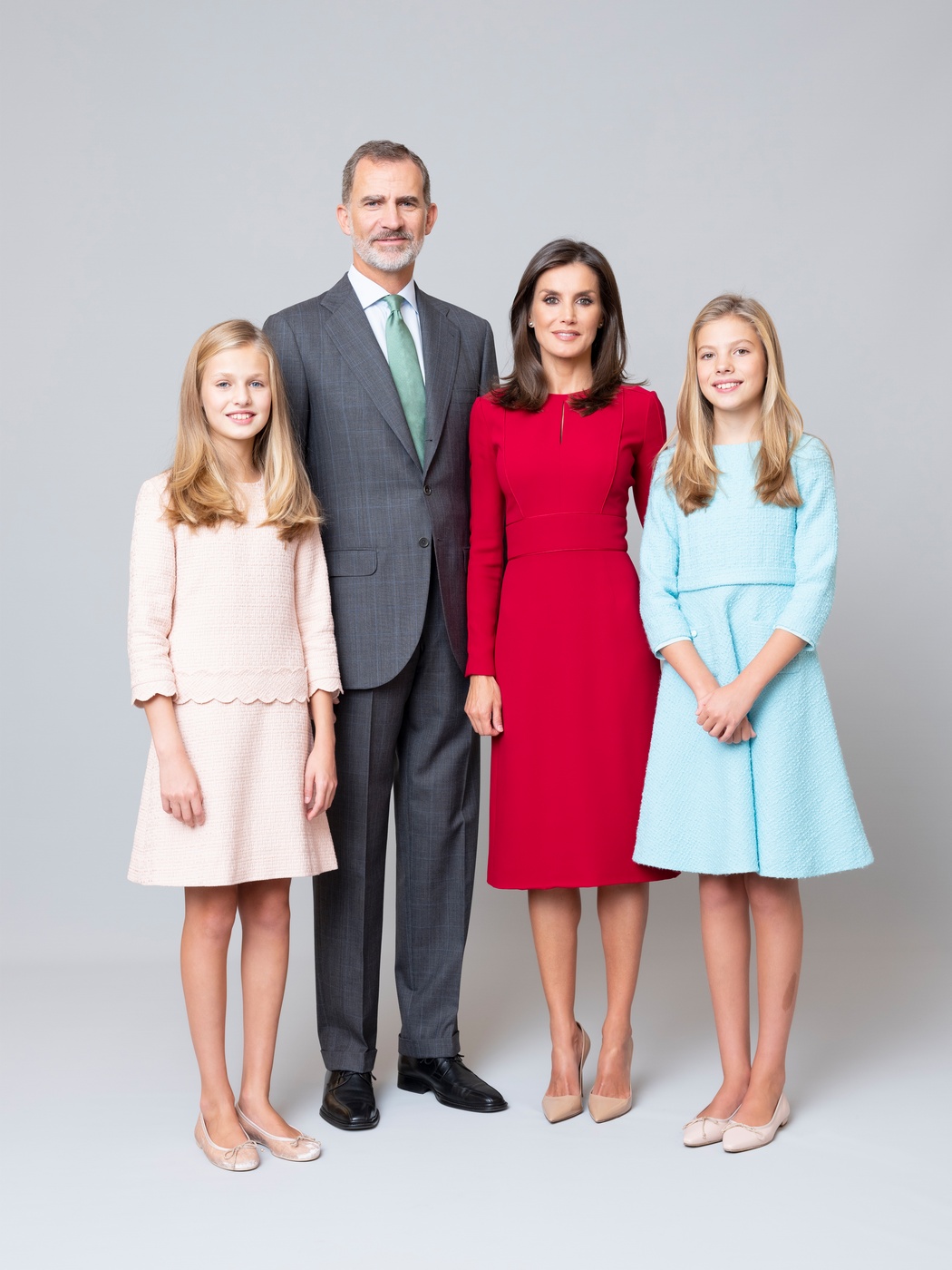 Felipe and Letizia have two daughters together, Princess Leonor born on October 31 in 2005 and Infanta Sofia born on 29th April 2007. After her marriage to Felipe, Letizia had a slow start in her public role. It's been reported that many members of the Spanish Royal Family were not very appreciative of the new Daughter-in-law. Letizia was the first commoner set to be The Queen one day and that fact did not bode well with many at the Royal Court in Madrid.
Letizia was not assigned any private secretary nor did she was given in any solo agenda of her own until 2006. But she joined her husband Prince Felipe for various national and international engagements to learn about Royal life and explore the world of possibilities that would one day be presented to her.
In the early years, the media reports used to put blame the lack of solo agenda for the Future Queen on Letizia herself. Letizia was a successful career woman before being a Royal Wife. She was always compared to the demure Mother-in-Law Queen Sofia or sisters-in Law Infanta Christina and Infanta Elena. Hence public did not have many opportunities to observe the woman who would one day be shouldering the burden of Monarchy alongside her husband.
But things started changing in 2007. And Letizia started to step out more and more on her own. In 2014 when King Juan Carlos abdicated the throne and Prince Felipe ascended the throne, that was the time when Letizia had the freedom to support and highlight the causes that were always close to her heart.  But it was not a bed of roses for Felipe and Letizia. Felipe and Letizia became King and Queen Consort at a time when the Spanish monarchy was on a downward roll following successive scandals involving Juan Carlos and her brother-in-law, Inaki Urdangarín.
Since becoming the Queen in 2014, Letizia has been a very keen advocate of gender equality, Mental Health, Education, the Cancer Federation and Rare Diseases. Letizia also has also been working regularly with UNICEF, WHO and Spanish Red Cross. She became the Special Ambassador for Nutrition for the United Nations Food and Agriculture Organization in 2015. Letizia is also the Honorary President of Spanish UNICEF.
Queen Letizia is one of the busiest Royal women in the world. People who have worked with her, her patronages, and the public in general respect Letizia for her work ethic, associations and dedication. Very discrete in nature, Letizia likes to keep her private life away from the media and the public eye while giving her royal duties the best. In a very rare revelation, in 2021 during her visit to Complutense University – her alma mater, for the 50th anniversary of the journalism faculty, Letizia recounted one of her experiences there how once one of her professors, a bit fed up with her, interrupted a class shouting, "Ortíz, look, I obviously don't know what is going to come of your life, but when it comes to being annoying, you have no rival."
Now after almost 20 years in the Spanish Royal Family as the wife of the heir to the throne and then Wife of the King, Queen Letizia has proved herself again and again. She turned 50 in 2022. Even the less pro-monarchy media praise her and exalt her as the saviour of the monarchy. As per Alberto Lardiés, Spanish Royal Journalist and Author,
Letizia has always been talked about since she arrived in the monarchy because she is such an interesting and complex person who eclipses all others, including King Emeritus Juan Carlos when he was King. She has become an icon. Not on the level of the late Lady Di, but she is considered unique and very different from anyone else in the Spanish royalty.
The Commoner who is today one of the most influential women in Spain and is being counted among one of the world's leading ladies, Letizia has shouldered the Burden of Monarchy with King Felipe and worked hard to secure its future in the country. Mábel Galaz, the author of "Queen Letizia" once said,
She has travelled in the subway, she has paid a mortgage, and she has had problems making it to the end of the month, like the rest of us. She knows the monarchy has to reinvent itself and be more ordinary.
Any talk about Queen Letizia of Spain will be incomplete if there is no discussion about her style and fashion sense. Letizia is known for her very chic and edgy style that has equal grace and elegance to it.  Letizia's Style is a mix of high-street and high-end that can be emulated very easily. Although Letizia has revealed many times that she does not like it when her fashion and style choices eclipse the matter on hand. But here at Regalfille, we will not let either one overshadow the other.
Find more about Queen Letizia of Spain's Life and Style below.
Explore All Posts