King Felipe and Queen Letizia of Spain concluded their day 2 in Germany with a State Banquet hosted by The President and First Lady of Germany, Frank-Walter Steinmeier and Elke Büdenbender at the Bellevue Palace in Berlin. Felipe and Letizia arrived in Berline yesterday and this morning attended a military welcome ceremony at the Presidential residence.
The black-tie event was attended by the delegations of both countries and Government officials as well as social representatives. After standing for the group photograph outside the Bellevue Palace, King Felipe and Queen Letizia along with the President and First Lady received the guests.
Addressing the gathering at the gala night, King Felipe said, "For our countries, the Union has been and continues to be a community with a shared future that has helped us overcome very difficult historical experiences and find the path to modernity: the path to democracy, freedom and the rule of law (the Recht Stat)". You can read more about the Spain State visit to Germany here with more photographs.
As expected Queen Letizia did not bring any glittering Royal jewels with her for the gala night. Letizia does not wear tiaras during the state visit to the Republican countries. And this visit was not an exception either.
But Queen Letizia definitely dazzled the night in her own style.
Queen Letizia of Spain was wearing a red Stella McCartney Cecilia sleeveless cape gown at the State Banquet hosted by the German President and First Lady.
Embed from Getty Images
The gorgeous gown made its debut in 2017 when King Felipe and Queen Letizia attended the 50th birthday celebrations of King Willem-Alexander of the Netherlands.
Embed from Getty Images
Once again Letizia paired the gown with dazzling diamond and Ruby waterfall earrings that she first wore in May 2017 at the Expansion newspaper's 30th anniversary(Shown in the pictures above). The origin of the earrings remains unidentified.
Today Letizia paired the outfit and earrings with a matching diamond and ruby bracelet. The delicate bracelet features ruby petals featuring one diamond in the centre and each petal is linked with a diamond circle clasp.  She carried a golden Magrit clutch that debuted last year during the Princess of Asturias awards concert night.
Queen Letizia was wearing a new pair of Jimmy Choo Rosie Gold Metallic Nappa leather sandals. The $975 sandals are described as "Our ROSIE platform sandals will add a dose of glamour to day or night dressing. Feminine and modern, they are Italian-crafted in gold metallic Nappa. This pair sits on a daring 120mm heel and features a knotted detail created by interlocking two tubular straps of the shining metallic Nappa." They are currently available at Jimmy Choo online store, Saks Fifth Avenue, Harvey Nichols US, FarFetch, Harrods, 24 Sevres and Selfridges.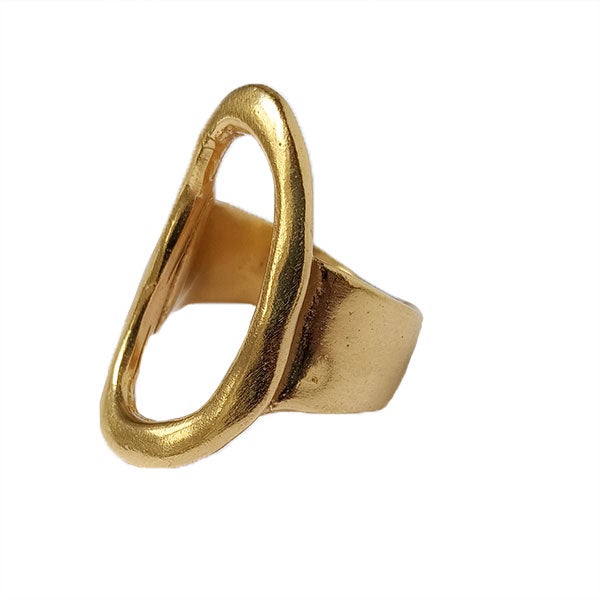 and her Karen Hallam ring was not missing either.
Tomorrow both Felipe and Letizia will begin the day with separate agendas before heading to Frankfurt. Find more about the visit here.