Today, King Felipe and Queen Letizia attended the opening of IFEMA Fair Madrid. The 39th edition of the Art Fair is being held in the Spanish capital from February 26th to March 01.
The annual event has a special present from Brazil and Argentina this year. ARCOmadrid 2020 gathers a total of 209 galleries from 30 countries.
Upon arrival, King Felipe and Queen Letizia started the tour of the fair from Hall 7 and 9 of IFEMA. The halls have special galleries featuring the spaces of El País, "It's just a matter of time", Timothy Taylor, Perrotin (French gallery), Hauser & Wirth, Helga de Alvear (Madrid gallery), Luisa Strina (Brazilian gallery), Mira Madrid (Valencian gallery which has just opened space in Madrid), Joan Prats (Catalan gallery), Juana de Aizpuru (Madrid gallery), Massimo Minini and Francesca Minini (Italian galleries), the Opening Zone and the ABC and El Mundo newspaper.
Felipe and Letizia visiting the galleries.
The mission of the Art Fair is to encourage innovation and research in the field of Art while giving a strong platform to the upcoming artists.
The central theme of the fair this year is "It's Just a Matter of Time" featuring the work of Félix González-Torres. "It's Just a Matter of Time" is the special proposal of this edition. A section curated by Alejandro Cesarco and Mason Leaver-Yap, with Manuel Segade in the discursive program, made up of 16 artists from 13 galleries.
For its part, "Dialogues", composed of ten galleries selected by Agustín Pérez Rubio and Lucía Sanromán, offers an analysis of contemporary creation focused on the dialogue between two creators, paying special attention to the practices of women's art in Latin America, and the sharing of the work of artists of different generations. And the "Opening" program is once again the space for discovering new proposals in ARCOmadrid. The 21 galleries selected by Tiago de Abreu Pinto and Övül Ö. Durmusoglu, represent the commitment of the young international gallery.
During the visit, the royal couple received briefings of each gallery and exhibitions being hosted during the Art Fair.
Embed from Getty Images
Now to What Letizia Wore – For the third time in a row, Queen Letizia chose a very spring feeling look.
She debuted a red printed dress from Maje. Thanks to Nuria on Twitter for the quick id.
Originally the $415 dress features a red floral print on a black base, long sleeves, gathered and puffed shoulders with a pleated mid-length skirt. Its vaporous cut accommodates wide slits at the hem and adjusts with an invisible zipper at the back.
The dress is currently available in Large size for $207.  A closer look at the print. The print is also available in midi size.
Queen Letizia paired the outfit with black Croc Manolo Blahnik platform pumps.
Her Gold & Roses white gold and diamond double dagger earrings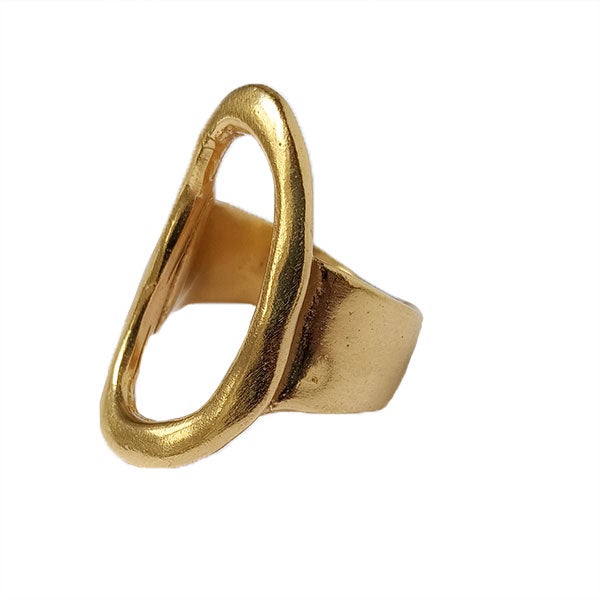 and Karen Hallam ring finished the look.
Dress Like Queen