The Duchess of Cambridge joined a SportsAid event dedicated to championing the parents and guardians of talented young athletes while highlighting the important role they continue to play in British sporting success on a visit to the London Stadium today.
The Duchess, who herself was a keen sportsperson during her student life, still lives a very active life. Today we saw the glimpse of that love of her for the sports. The engagement was a great contrast from her last night's appearance at the Dear Evan Hansen performance.
SportsAid is the only national charity (#1111612) of its kind – helping young British sportsmen and women aspiring to be the country's next Olympic, Paralympic, Commonwealth and world champions. SportsAid was established in 1976 and celebrated its 40th anniversary in 2016. SportsAid originally acted as the major source of financial support for the country's elite athletes before the arrival of National Lottery funding through UK Sport in 1997. SportsAid then began to focus purely on the next generation of young talented athletes and continues to play that role today.
The Duchess has been the Patron of SportsAid since 2013 and has met many talented young athletes helped by the charity, as well as Olympians and Paralympians who were previous beneficiaries at training days, performance workshops and fundraising events. The visit came a matter of months before the Tokyo 2020 Olympic and Paralympic Games get underway.
The Duchess has arrived at the @LondonStadium's Indoor Track with @TJL1967. She has been greeted by a taekwondo demonstration from Lutalo Muhammad and Mia Pachansky. She will now be given an insight into track and field while meeting SportsAid athletes, parents and guardians! pic.twitter.com/B1rUJhGT4S

— SportsAid (@TeamSportsAid) February 26, 2020
SportsAid supports over 1,000 athletes each year with a financial award, recognition of their potential and a range of personal development opportunities. The majority are aged 12-18, still in full-time education and are reliant on their parents and guardians to cover the costs of their sport. The overall average annual spend for a SportsAid athlete has risen from £5,022 to £7,089 over the last decade.
Kensington Palace said, "This is often the first recognition an athlete receives from outside their support network and acts as a motivational boost. These athletes are the country's brightest sporting prospects. They are nominated to SportsAid by the national governing bodies of more than 60 sports. Most of them receive no funding, other than that from SportsAid, which means they rely heavily on their parents for support. The typical value of a SportsAid award is £1,000. The parents and guardians are often the 'team behind the team' and the financial element is just one of the many crucial forms of unseen support that they provide. They willingly take on many different roles – including that of taxi driver, personal assistant, sports psychologist and lead nutritionist. Most athletes train twice a day and travel nearly 1,500 miles every month to train and compete."
The Duchess is being given an in-depth introduction to track and field as she learns more about the starting blocks, including the differences for para athletes, with coach Coral Nourrice, Jessica Ennis-Hill, Danny Sidbury and Emmanuel Oyinbo-Coker! pic.twitter.com/m4ALiA7qGI

— SportsAid (@TeamSportsAid) February 26, 2020
SportsAid has supported tens of thousands of athletes during the critical early stages of their careers, with Sir Mo Farah, Dame Jessica Ennis-Hill, Baroness Grey-Thompson, Dame Sarah Storey, Sir Steve Redgrave, Dame Katherine Grainger and Daley Thompson CBE among its alumni. The charity's impressive track record was highlighted at the Rio 2016 Olympic and Paralympic Games where SportsAid alumni won 150 medals. This included 46 of Team GB's 67 medals (20 gold, 15 silver, 11 bronze) and 104 of ParalympicsGB's 147 medals (44 gold, 28 silver and 32 bronze). More recently, Laura Kenny CBE, Ellie Simmonds OBE, Adam Peaty MBE, Georgie Hermitage MBE, Jade Jones MBE, Hollie Arnold MBE, Pam Relph MBE, Natasha Baker MBE, Tom Daley, Lutalo Muhammad and Dina Asher-Smith have all received SportsAid awards within the last decade.
The Duchess spent time with currently supported SportsAid athletes, as well as several of the charity's most famous alumni, as they showcase a series of track and field events. The Duchess joined athletes taking part in track and field activities.
Catherine received a short tutorial from Lutalo Muhammad on how to complete a reverse punch.
The Duchess also sat down with parents and guardians of SportsAid athletes, attending by invitation-only, to listen to a panel discussion focusing on managing the relationship between parents and guardians with their talented children and about the challenges they face to gain an insight into their experiences and learn about everything they do. She heard about the findings from a focus group session highlighting the challenges they face, surprises they encounter and pride they feel, while seeking to find out how the charity can offer them a clearer voice and enhance their support.
The Duchess is taken aback as she reads the application Jessica Ennis-Hill submitted to SportsAid as a 15-year-old. The form was written by Jessica and she informed the charity that her long-term ambition was to 'compete in major championships'. She did a bit more than that! pic.twitter.com/hQV55cQOIq

— SportsAid (@TeamSportsAid) February 26, 2020
Catherine met with Jessica Ennis-Hill who showed Duchess her application that she submitted as a 15-year-old to receive an annual award in 2001. Jessica is the 2012 Olympic champion who was also a three-time world champion, and the 2010 European champion. She was appointed Dame Commander of the Order of the British Empire (DBE) for her services to the athletics in the 2017 New Year Honours.
"For all of you here, you go, and have gone, above and beyond the call of duty; you've committed your time and devotion to nurturing your children's exceptional talents"

The Duchess shares her admiration with the parents and guardians as she addresses them at the @LondonStadium! pic.twitter.com/6IyVzigXA7

— SportsAid (@TeamSportsAid) February 26, 2020
Addressing the gathering, Duchess made  a short speech,
Thank you so much. It's been fascinating to speak to so many of you here today and also to hear, just now, about some of the experiences you all have, as young athletes and as parents.  SportsAid are a shining example of how organisations can reach out and listen to families, and provide the best support possible to enable their children to flourish The crucial role that parents and caregivers play in our children's lives cannot be underestimated.

For all of you here, you go, and have gone, above and beyond the call of duty; you've committed your time and devotion to nurturing your children's exceptional talents. And as a parent, I have a huge admiration for you and I know just how complex and time-consuming your role is.

You are simultaneously the transport and logistics managers, nutritionists, laundry service, psychologists, financiers, and crucially, the ones that provide love, support and encouragement when things are tough. You may not always feel appreciated, or sometimes even noticed on the sidelines, in the car park or sitting high in the stands. But I am so proud that SportsAid recognises how key your role is and that they understand the challenges and worries you face.

On behalf of SportsAid, I'd like to thank all the parents and guardians who have played, or are playing, their part in developing this country's young sporting talent.

Finally, I know this is an incredibly exciting but daunting time for many of SportsAid's young athletes, so I'd like to wish the best of luck to all those aiming to participate in the Olympic and Paralympic Games this year. We'll all be cheering you on. Thank you for having me.
Embed from Getty Images
Now to What Duchess Wore – As expected Catherine donned a casual sporty outfit that put the Twitter into frenzy. Upon arrival she was wearing her Smythe Navy One Button Blazer.
The piece has been a staple in her wardrobe since 2011 and is currently available on Shopbop and Farfetch.
Duchess chose a green outfit. She was wearing a green knitted ribbed top.
Update: MiddletonMaven found that Catherine was wearing Mango Ribbed knit sweater. The Ribbed knit sweater had elastic features with round neck and long sleeves. The top was originally $49.99 and is currently on sale for $24.99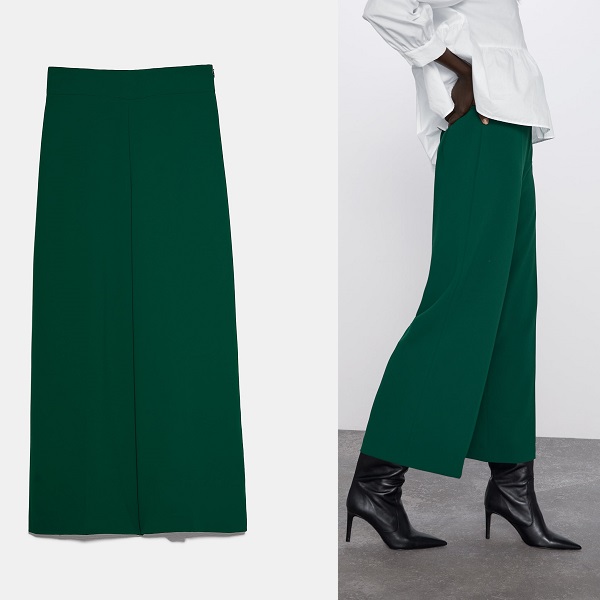 Elizabeth from katesclosetau ided the Zara green culottes. The £29 high-waist wide-leg trousers feature invisible zip fastening at the side.
I will leave you with this video. So far we do not have any engagement scheduled for Duchess this week. Next week will see William and Catherine undertaking their first ever visit to Ireland.