King Felipe and Queen Letizia of Spain visited the Cantabrian towns of Torrelavega and Santoña as part of their post-pandemic tour of the country.
Their day began at the "Jesús Collado Soto" National Cattle Market, where they were welcomed with a dance traditional dance performance of  "Jota Montañesa". Performed by the group of four artists (whistle, drum and a dancing couple) the dance is a tradition of Western Cantabria and comes from the Agrupación of Dances 'Virgen de las Nieves de Tanos'.
The Royal Couple started the tour of the market and visited the milking area, then the sale of cattle and finally the exhibition of bovine breeds. After the visit to the Torrelavega National Cattle Market, Their Majesties held a meeting with the representatives of the Cantabria livestock sector groups. Felipe highlighted the relevance of the primary sector during the pandemic where Spanish society, he said, has rediscovered the importance of this sector. An essential sector in the entire food chain that has been fundamental for the Spanish.
Next, Felipe and Letizia moved to the Port of Santoña. The couple received a brief tour of the port. The fishing port of Santoña is managed by the Virgen del Puerto Fishermen's Association. 34 ships are based, of the 132 that are currently active in Cantabria.
The King and Queen saw the working routine of fishermen and fisherwomen at the docks.
During the tour, Felipe and Letizia saw the famous viewpoint of the  Puerto de Santoña.
The couple received a really warm welcome from the locals around the port.
The last stop of the day was the Consorcio Group canning company, where they visited the plant.
At the plant, King and Queen toured the tuna packaging area, they saw a sample of the work of the leftovers of anchovies and toured the autoclaves, the area where the sterilization process is carried out.
Consorcio is well-known in the country for its high quality canned seafood and home-made dishes.
For the day, Queen Letizia wore her blue Uterque jumpsuit that we first saw in 2018 during the co-operation tour of Dominican Republic.
Navy Blue jumpsuit features a floral pattern in different shades such as pink, white yellow or green and colourful buttons on the front with a belted waist.
This time Letizia paired the jumpsuit with a new pair of navy wedges from Spanish label Calzados Picon. Thanks to QueenLetiziaStyle blog for the id. Calzados Picon makes elegant and comfortable handmade shoes, with 100% natural materials.
Letizia finished her look with her gold bamboo huggie hoops and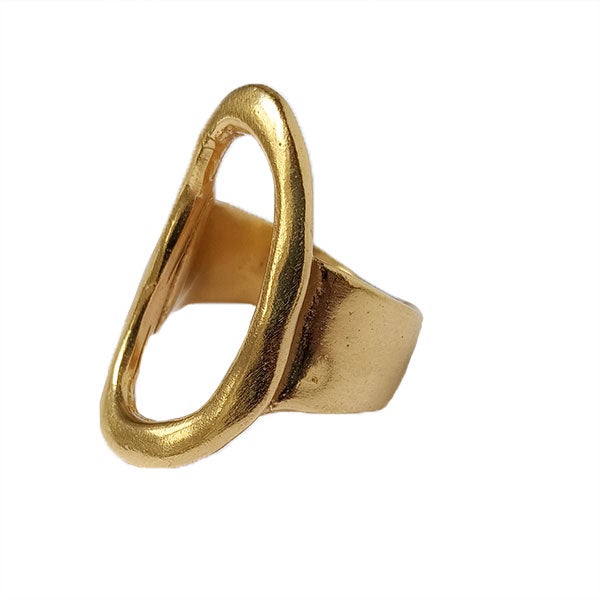 her Karen Hallam ring
Another video of the day.