Queen Letizia of Spain presented the National Fashion Awards in Madrid on Thursday. Promoted by the Ministry of Industry, awards recognize the work of people, institutions, organizations, companies and industries that have achieved business excellence in the fashion industry.
Letizia arriving at the event.
The winner of the  VI edition have been for Bimba & Lola, Custo Dalmau, Pisamonas, Hilaturas Ferré, Mila and Pedro García, The Extreme Collection , Mixer & Pack and the Villanueva University. The Jury included Raül Blanco, Secretary-General for Industry and SMEs; Agatha Ruiz de la Prada, designer and National Award of the Fashion Industry for her career in the V edition; Galo Gutiérrez, general director of Industry and Pyme; Nuria de Miguel, director of the Mercedes-Benz Fashion Week Madrid; Sofía Rodríguez, director of the Museum of Decorative Arts; and Paul García de Oteyza, designer and National Award of the Fashion Industry for "Innovative Entrepreneurship" in the last edition awarded to Sastrería Oteyza.
The event began with a round table entitled "The health crisis caused by the COVID-19 pandemic: a point of reflection for the sector".
Queen Letizia then presented the awards to the winners and congratulated them.
Before leaving, Queen Letizia of Spain stood for a group photo with the winners and authorities.
A video of the day.
At the Fashion Awards, Queen Letizia of Spain wore a chic and elegant style from her wardrobe.
Upon arrival, Letizia was wearing her black Carolina Herrera A-line wool coat.
Underneath the coat, Queen Letizia wore a black tie-neck full sleeve blouse that is still unidentified. I will update the post once we have any information about it.
Queen paired the blouse with her golden Massimo Dutti skirt that we first saw in June this year during a family outing.
She brought back her Manolo Blahnik pumps.
Letizia was carrying her Carolina Herrera Astrud clutch.
Her Gold & Roses Balance Combo earrings were complimenting the look.
The earrings are made up of Gold & Roses' two different pairs – Sunrise even balance and Milky Way Balance Earrings.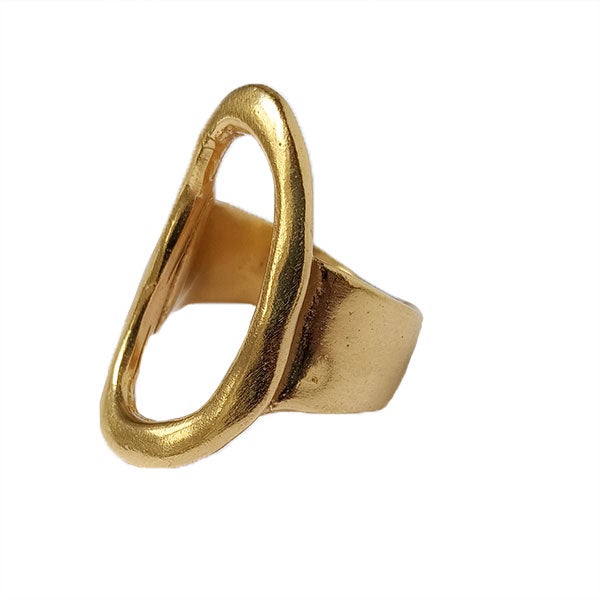 Queen Letizia's Karen Hallam signature ring was not missing either.