Queen Letizia of Spain inaugurated the 41st edition of the International Contemporary Art Fair-ARCOmadrid at Ifema-Madrid.  The annual event is one of the main platforms of the art market and an essential piece in the international circuit for the promotion and dissemination of artistic creation. The event was originally planned for both King Felipe and Queen Letizia just like every year, but after Russia's attack on Ukraine, King Felipe stepped out of the engagement to attend the urgent meeting of the Security Council.
ARCOmadrid 2022, which is being organized by IFEMA Madrid from February 23 to 27 under the theme of "unite past and future through galleries and their essential relationship with artists and collectors." All the galleries represent the artistic scene of IFEMA's 41 years long journey, linking the past of the Fair with the emerging artists of the future. In fact, this edition is once again ratified as a benchmark for research, discovery, and knowledge of new creative talents. 66 galleries will present projects by individual artists
Coming to Queen Letizia Style – Letizia debuted a new look for the event.
Letizia was wearing a Inés Martín Alcalde pinstriped suit. (Thanks to Nuria for the id). The €420 suit consists of a pinstripe navy jacket and matching trousers.
The blazer features shoulder pads, double-breasted button fastening, and a square pocket with a sash at the waistline and comes with matching high-waisted tuxedo-style trousers.
Letizia teamed up the look with her blue Magrit pumps
and carried Carolina Herrera Baret clutch.
Another new element of the look was the €1885 18kt Gold & Roses Jardin de Aire Rose Gold, Diamonds, and Emeralds Earrings. The earrings are described by the label as, "The green color is in the plants; the water drops are reminiscent of brilliants and the warmth is provided by the skin and the color contrast that highlights the white and green harmony of the collection. It is about creating a micro-landscape that suggests and inspires, which takes us to a jewelry garden through the details: the profile of a leaf, the color of a flower, the verticality, the light of the image."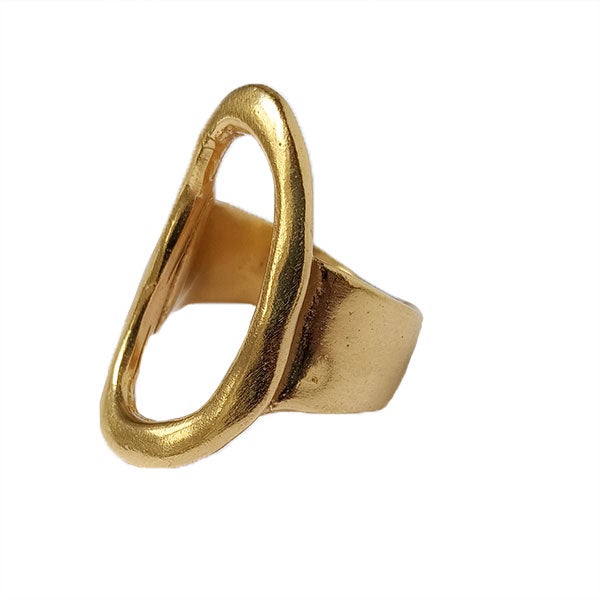 Her Karen Hallam ring was not missing either.
Next week Queen Letizia has two scheduled engagements. She will join King Felipe for the presentations of Gold Medals for Merit in Fine Arts on 02nd March and then she will attend the "X Annual Call for Grants for Social Projects of the Mutua Madrileña Foundation" event on 03rd March.