Embed from Getty Images
And here we are, the last day of The Duke and Duchess of Cambridge's 7 days long Royal Tour Caribbean. Prince William and Duchess Catherine spend the last day in Abaco.
Yesterday, the royal couple visited a school, met with frontline workers, participated in the sailing regatta, and attended the evening reception.
Embed from Getty Images
Today's Itinerary looked equally busy.
 

View this post on Instagram

 
Earlier today, Prince William and Duchess Catherine were seen leaving their Hotel The Cove at Paradise Island. The Royal couple was staying at the three-bedroom Penthouse Suite of the hotel that has floor-to-ceiling windows, wrap-around ocean views, a large living area, office space, and a separate ten-set dining area with a full-service kitchen. And I am not making a mistake of thinking it was all a jolly holiday with ocean views, given the sensitive media drama going on around the tour, the office and dining area of the hotel were pretty busy with William and Catherine going over briefs with their secretaries and communication team.
Prince William and Kate Middleton arrive at @TheCoveAtlantis to begin their #RoyalVisit to The Bahamas. pic.twitter.com/Waet0RwLHY

— AtlantisBahamas (@atlantisbahamas) March 25, 2022
The Royal couple thanked the staff, told them that the food was amazing and they are definitely looking forward to coming back but this time with their children. The hotel shared some pics from the royal couple's arrival.
HAPPENING NOW: The Duke and the Duchess of Cambridge have arrived in Abaco. pic.twitter.com/L5ALx76yMQ

— OURnews Bahamas (@OurNewsRev) March 26, 2022
The Royal couple arriving in Abaco at the Lynden Pindling International Airport. They were 40 minutes behind their schedule. From there they were accompanied by Governor-General and two Cabinet ministers.
Embed from Getty Images
The first stop is Daystar Evangelical Church in Great Abaco, Bahamas. Abaco was dramatically hit by Hurricane Dorian which saw winds of up to 185mph and left devastation in its wake.
Embed from Getty Images
The effects of Hurricane Dorian in the Bahamas in 2019 were among the worst experienced for any natural disaster in the country. Hurricane Dorian struck the Abaco Islands as a Category 5 hurricane on September 1, and a day later hit Grand Bahama Island in the same category.
Kensington Palace said, "During their visit, on the final day of their Caribbean tour, they will hear first-hand what it was like to be on the island at the point the hurricane hit, and how people have come together to support each other during an incredibly difficult time. " It's been reported that the islanders have been able to build almost 75% of the original island back.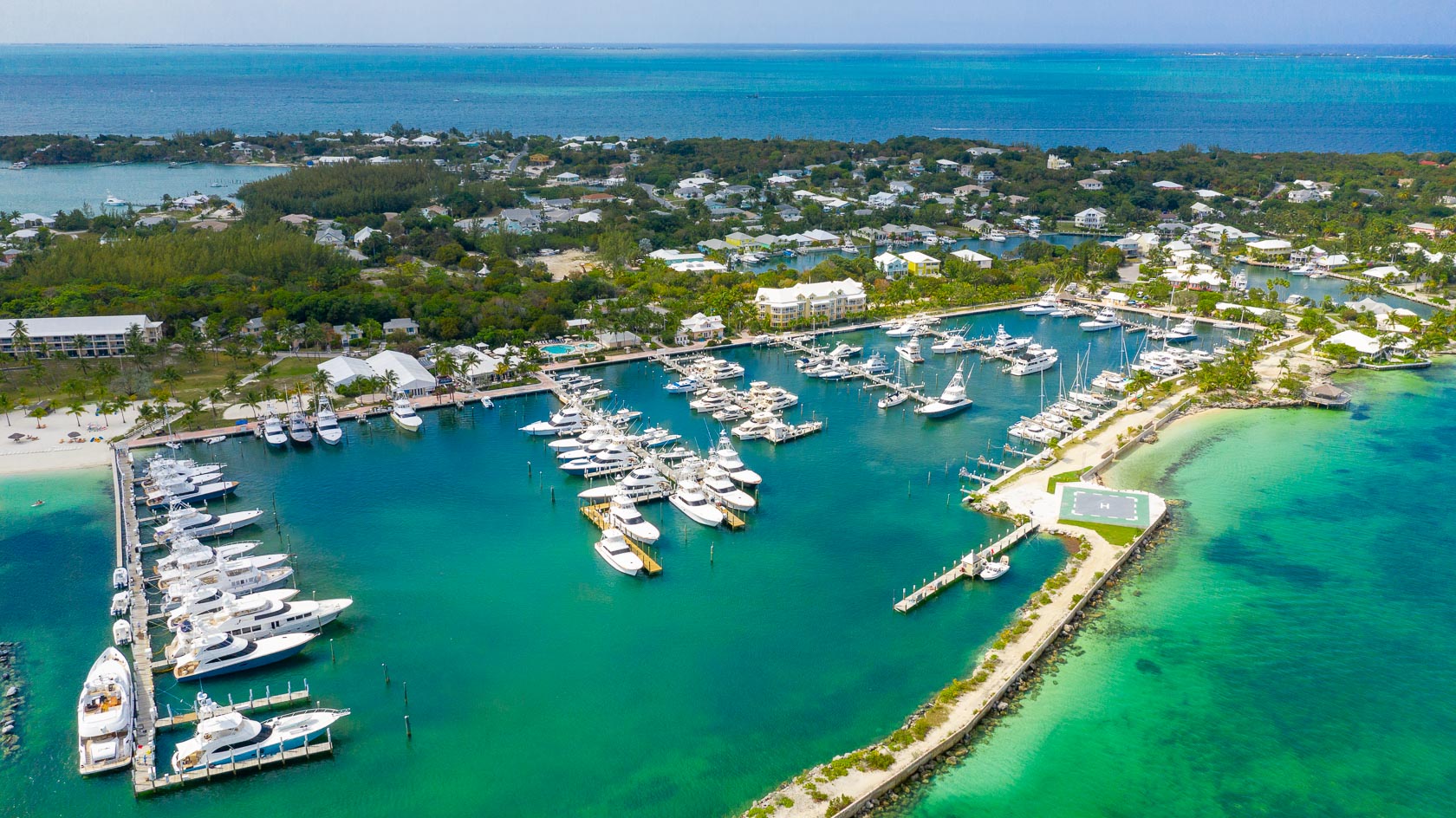 The Abaco Islands are a group of islands and barrier cays in the northern Bahamas. From the Bahamas website, "The Abacos island chain is a boating, fishing, and sailing paradise. But it's not just the sea that attracts travelers from around the world. Those who prefer to explore by land will find charming colonial towns, championship golf courses, and countless hotels, restaurants, and bars".
At the church, The Royal couple was received by Pastor Silbert Mills. Pastor Silbert showed the royal couple around, the damage left by the hurricane, and what has rebuilt since then. The Daystar Evangelical Church was one of them.
Embed from Getty Images
The royal couple also heard from the locals about how they have coped since the hurricane that was followed by a worldwide pandemic.
Embed from Getty Images
The Royal couple paid their respects during a visit to Abaco's Memorial Wall at The Memorial Gardens in recognition of the loss of lives following the passage of Hurricane Dorian. The Duchess left a bouquet of flowers at the Memorial wall.
While the exact number is unknown, it is estimated that over 2,000 people lost their lives in the hurricane. A short service of remembrance was held during the visit.  From Daily Mail's report,
John Pinder, an Abaco MP, told them the British were some of the first to arrive with aid in the immediate aftermath and that they would never forget it. He added: 'Abaconians far and wide look forward to a friendship with Great Britain for many, many, many years to come.'
Embed from Getty Images
Then it was time for the Fish Fry event in Dundas Town, Abaco -a quintessentially Bahamian culinary gathering place which is found on every island in The Bahamas. There was a large crowd gathered around to meet the Royal couple.
They were joined by Stephen Gardiner, a Bahamian 400m Olympic champion.
The Duke and Duchess of Cambridge visited a fish fry today with Kate trying local delicacy 'conch pistol' – said to have the same effect as viagra
She said: 'I'm a little bit more adventurous than William is.'
But William joked: 'I can handle it.' 😳#RoyalVisitBahamas pic.twitter.com/4Su7jaizYr

— Rebecca English (@RE_DailyMail) March 26, 2022
The royal couple visited various stalls and tasted many dishes from those stalls. One of them was a famous local delicacy – 'conch pistol' – said to have the same effect as viagra.
Embed from Getty Images
The Duchess of Cambridge tried her hand at Bahamian Conch Salad making. From People's report,

The royal had one reaction to the taste after she expertly took a bite. "That was lovely," Kate said.
The Duchess of Cambridge even stepped behind the counter to make conch salad herself as Jade Adderley, a vendor at the Fish Fry in Dundas Town, Abaco, looked on."I'm not as fast as you!" Kate told him.

 
Embed from Getty Images
Continuing from
Daily Mail
,
William then made an impromptu stop at a bar. He slapped the bar top and said: 'This is my stop!'  William was offered a Gullywash – coconut juice with condensed milk. He seemed to enjoy it and joked: 'You guys talk amongst yourself I'm staying here.'

They moved on to stalls by the beach where vendors were selling handbags and homemade honey. While talking to stall owner Kimberly Roberts, 49, of Abaco Ceramics, William looked at the honey for sale in jars on the table then pointed to Kate and said: 'Catherine has bees at home.'

They then tried some lobster salad at the Island Fusion street food stall before moving on to a walkabout to greet local people.
Embed from Getty Images
Then it was time for a public meet and greet. William and Catherine walked around the street and talked to the well-wishers. They met with many hurricane survivors.
Prince William brought this little photographer to the #DuchessofCambridge 📷

📸 ZNS #RoyalVisitBahamas pic.twitter.com/GNKYErn5lp

— ChristinZ (@ChristinsQueens) March 26, 2022
At one point, now an expert photographer herself, The Duchess of Cambridge was seen helping a young child with the camera. The couple has reportedly said that they had a lovely time in the Bahamas. From Daily Mail's report,
They said they have FaceTimed their children to show them the views, which blew them away, and that they can't wait to come back with them,' a source said.  Hopefully, William will be able to create the same happy memories with his family, that his own mother did with him.

In his speech, given at the Governor General's reception, a visibly relaxed William said: 'Seen from space, astronaut Chris Hadfield once said that 'the beauty of The Bahamas is surreal' and you could see 'every blue that exists'. 'That natural beauty is only surpassed by the warmth and generosity of the Bahamian people. Catherine and I have witnessed this everywhere we've been today on our first official visit to your wonderful islands.  The welcome you gave us in Parliament Square today with the Junkanoo, and Rake 'n' Scrape was unforgettable.

But this is not my first time in The Bahamas. I came here with my mother as a child.  Snorkelling around the James Bond wrecks off Nassau left me with the most vivid memory of your beautiful blue waters. For a young boy, obsessed with 007, it was the best holiday ever.'
William and Kate have been visiting @CoralVitaReefs, the first winners of the @EarthshotPrize Revive Our Oceans, on Grand Bahama: #RoyalVisitBahamas pic.twitter.com/Mk38cpBKBP

— Emily Nash (@emynash) March 26, 2022
From there, The Duke and Duchess of Cambridge headed towards Grand Bahama Island  – home to Prince William's Dream Project Earshot Prize's winner – Coral Vita.
Embed from Getty Images
The first stop in the Grand Bahama was Grand Bahama Children's home which has provided a home environment for children unable to live with their parents since 1977. The Duke and Duchess spent time with the children there and heard from staff about how they've created a warm environment for them to grow up in.
A few more pic.twitter.com/HnqSdUMMxj

— Richard Palmer (@RoyalReporter) March 26, 2022
The couple was welcomed by a group of excited children who showed them around.  William played football and gave some of the children swing push, while the Duchess was charmed by toddlers. They unveiled a plaque at the Grand Bahama Children's Home to mark the visit.
GB CHILDREN'S HOME: Exiting from a tour of the children's home, the royal couple say a prayer with one of the residents.#theroyalvisitbahamas pic.twitter.com/d7xmLiDMCd

— OURnews Bahamas (@OurNewsRev) March 26, 2022
Before leaving they said a prayer with the resident.
From their William and Catherine headed towards Coral Vita – A 2021 Earthshot Prize Winner. Coral Vita works to restore reefs by growing and transplanting corals.
Embed from Getty Images
Coral Vita was founded by environmental entrepreneurs driven to solve one of our planet's greatest challenges: preserving the reefs. Their team of business, policy, and science leaders all share a deep passion for protecting coastal ecosystems and communities. From its website,
Coral Vita creates high-tech coral farms that incorporate breakthrough methods to restore reefs in the most effective way possible. Our scientific team has partnered with leading marine institutes, utilizing techniques to grow coral up to 50x faster while boosting their resiliency against the warming and acidifying oceans that threaten their survival. We then outplant these corals back into degraded reefs, bringing them back to life.

Coral Vita's land-based farms not only supply corals for restoration projects, but also function as education centers for local communities as well as eco-tourism attractions. They can also scale to make a significant ecological difference, with a single farm able to grow millions of resilient corals for distribution around a region.
🪴

📸 ZNS Network #DukeandDuchessofCambridge #RoyalVisitBahamas pic.twitter.com/oBokM1SUqW

— ChristinZ (@ChristinsQueens) March 26, 2022
Co-Founder and Chief Reef Officer Sam Teicher said about the Royal visit said, "We are incredibly honored and excited to have the Duke and Duchess of Cambridge come and visit us at Coral farm here. It's not just an amazing moment for us but for whole global reef restoration communities for raising the spotlight on this issue as well as on Grand Bahama itself."

William has been snorkelling to plant coral pic.twitter.com/WKegUk8IGc

— Richard Palmer (@RoyalReporter) March 26, 2022
The royals were able to see firsthand how the coral is grown, as well as hear from the group how the Earth shot Prize is helping them to protect ecosystems that are under threat. The Duke and Duchess of Cambridge get their hands dirty by planting a tree at Coral Vita. They were then carried off on the sea for a coral-planting scuba diving experience. It's been reported that the Cambridge couple's favorite photographer for family pictures Matt Porteous accompanied them for snorkeling. We might get some pictures sometime later this year.
Embed from Getty Images
Now to the first look of the last day.
For the morning, The Duchess of Cambridge was wearing Rixo Izzy Pink Marble Zebra print Dress. Thanks to Bojana for the id. The shade of the dress is called Bubblegum. Thanks to Carly from KateMiddStyle for the info.
The Duchess paired the outfit with her Castaner Carina Wedges.
Catherine carried Emmy London Natasha Cupcake Clutch.  Thanks to Middleton Maven for the id.
She repeated her Nadia Irena Maya earring.
The Duchess was wearing Finlay & Co Henrietta Light Tortoise Green Lenses Sunglasses. Thanks to Lauren for the id.
PS: The post is in progress will be updated soon.