Queen Letizia of Spain presided over the presentation of the 44th edition of the SM Awards for Children's and Youth Literature "El Barco de Vapor" and "Gran Angular" at the Green Courtyard space in Madrid on Tuesday night. The 44th edition of the SM Award for Children's Literature El Barco de Vapor is convened by the SM Foundation, with the aim of promoting the creation of literature for children that encourages a love of reading and transmits, with literary quality, certain values human, social, cultural or religious that help builds a decent world. Each award is endowed with 35000 Euros.
SM, through the Foundation, annually allocates more than 200,000 euros to the SM Awards for literature and illustration. The SM Foundation is committed to promoting reading as a source of learning and development for children and young people. It maintains its commitment to quality literature that is attractive and entertaining while transmitting human, social and cultural values. It directs all its initiatives towards improving equity and educational quality in ten Ibero-American countries so that no child is left behind.
This year's awards went to Cristina Fernández Valls and Ginés Sánchez Muñoz. Both authors have been awarded for the novels "Jack-Mullet-de-Los-Seven-Mares" and "The sea behind" respectively. The two books that SM considers are very social, about struggle and search for identity, which sends a message about the importance of personal care, friends, family, and everything around us.
After the award ceremony, Queen Letizia addressed the gathering in which she appreciated and congratulated both the winners and emphasized the reading among the youth. She said, "I remember the distinction that the poet and essayist Pedro Salinas made between reader and reader. To the first, he attributed the ability to read pragmatically, but without interpretation or imaginative appropriation. And to the second, he granted the pure pleasure of reading for invincible love of the book, with determination to interpret, give context and create a world of his own."
Embed from Getty Images
For the evening event, Queen Letizia chose a very stylish and chic look.
Letizia was wearing her white long Felipe Varela wool coat on arrival in classic Letizia style.
Underneath the coat, Letizia chose a Maria Barragan Nelli top and matching trousers. Thanks to Nuria for the quick id.
The €108 Nelli hand-made top is crafted from fluid matte crepe and features an asymmetrical neckline with gathering on one shoulder, and dropped sleeves.  The €168 Nelli trousers are hand-made from fluid matte crepe and feature two decorative loops with jewel button detailing. At the time of writing both pieces were available in all sizes.
Letizia teamed up the outfit with her gold hoops.
Embed from Getty Images
She was carrying a Magrit Alice clutch in gold leather and wore matching Magrit pumps.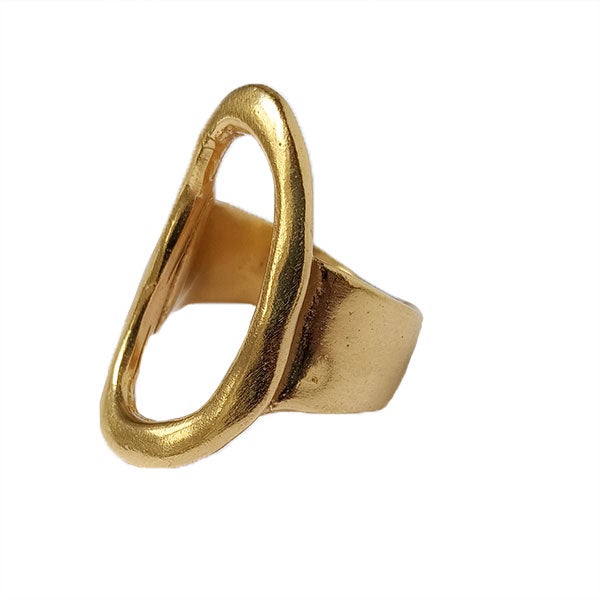 Her Karen Hallam ring was there to complete the look.