King Felipe VI and Queen Letizia of Spain attended the inauguration of the forty-second edition of the International Tourism Fair-FITUR, which will be held from January 19 to 23, 2022 at Feria de Madrid.
The International Tourism Fair-FITUR, is the first annual event for world tourism professionals and the leading fair for inbound and outbound markets in Ibero-America, which this year has the Dominican Republic as a partner.
 The  President of the Dominican Republic, Luis Rodolfo Abinader Corona, arrived in Madrid earlier today and joined Felipe and Letizia for the inauguration ceremony.
The Royal couple and the President of the Dominican Republic arrived at the Pavilion 9 of the venue and received greetings from the State, regional, local, and IFEMA authorities, and began a tour that included a visit to the Galician stands; Canary Islands; Madrid; Turespaña; Iberia; inns; iryo; FITUR Screen; Morocco; HELIXA project of virtual reality applied to Fairs and Congresses; Jordan and Portugal.
At the stand of the Dominican Republic, guest country of the FITUR 2022 edition, traditional royafolk dance was performed by a ballet.
FITUR is a unique forum to promote brands, present new products, find out about the latest trends and fill agendas with contacts and prospects. In addition, it has the support of the entire value chain of the tourism industry, as evidenced by the high representation, national and international, and figures that place the fair "in parameters very close to those achieved before the pandemic". The fair will bring together around 100 countries with 70 official representations.".
In the 2021 edition of FITUR, which was delayed to May due to the pandemic, 5,000 companies and 55 countries attended, with more than 62,000 face-to-face attendees – 42,000 professionals and more than 20,000 visitors.
The previous year, in January 2020, before the official start of the pandemic in March, the main fair organized by IFEMA achieved the highest number of attendance in its history in its exclusively professional sessions, with 150,011 participants from 140 countries.  The fair brought together 255,000 visitors that year; 918, main exhibitors; 11,040 companies, 165 countries, and regions, and an international share of 56%.
A video of the day.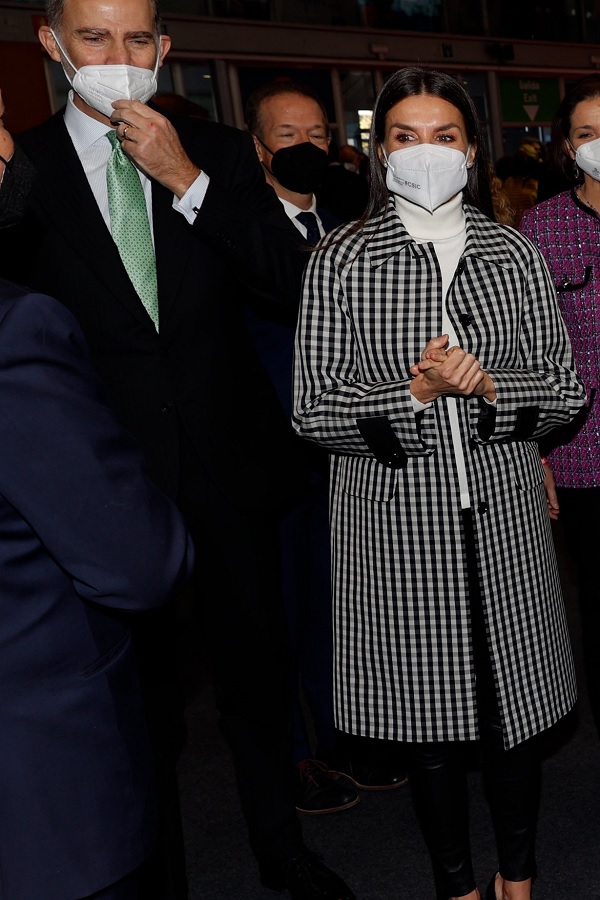 Moving towards Queen Letizia style – The Spanish Queen chose a chic look for the day.
Letizia was wearing a black and white gingham print trench coat from Spanish label, Mirto, which we first saw in April 2018.
Underneath the coat, Queen wore her white Hugo Boss turtleneck sweater with Uterque leather leggings.
Letizia teamed up the look with her Magrit pumps.
Her Chanel Comète Earrings and Karen Hallam ring finished the look.