Queen Letizia of Spain has travelled to Los Angeles today where she will be opening the headquarter of Cervantes Insititute in the city tomorrow.  Upon arrival in the city, Queen Letizia was received by the Spanish Ambassador to the USA.
Then Letizia chaired a meeting to discuss the potential of Spanish and its cultures in the United States. In the working meeting with the heads of the Institute's centres in the United States, the attendees analyzed the situation of Spanish, a language that has 60 million speakers in the country.
This new Cervantes Institute Center in the city of Los Angeles was approved by the Council of Ministers, with the aim of promoting "Spanish and the dissemination of culture in Spanish on the west coast of the United States, where the Hispanic presence is especially significant", as stated in the royal decree that authorizes it.
With the new centre in the great Californian city, there will be seven US cities that will have headquarters of the Cervantes Institute: the centres of New York (opened in 1995), Chicago (1996) and Albuquerque (2000); the Aula Cervantes in Seattle (2007), the Observatory of the Spanish Language at Harvard University (Boston, 2013), the El Paso extension (inaugurated by Luis García Montero on June 23) and, shortly, the centre Los Angeles, considered the Hispanic capital of the US.
Heading towards Queen Letizia Style – Letizia chose her favourite power colour for the first winter appearance in the USA – Red.  Queen Letizia was wearing a red Carolina Herrera Cocoon coat in double-faced wool.
The coat featured a collar with lapels, concealed snap fastening and flap pockets. Metallic plaque with Carolina's initials and hem slit at the back.
A look at the coat detailing.
Underneath the coat, Letizia was wearing her Roberto Torretta Red Blazer Suit. Since its debut in 2018 at the Valladolid at a commemoration event in March, we have seen the suit many times. Letizia also wore the suit to the inaugural session of the XII edition of the "European Development Days (EDD) in 2018 where she was joined by the Queen Mathilde of Belgium. In 2019, Letizia wore the suit to the Princess Girona Foundation event. In 2020 Letizia wore it at the Student residence board meeting. In 2021 the suit made another appearance when Letizia visited Congress House to pay a tribute to Clara Campoamor.
The Queen was wearing a pair of red pumps and carried her Carolina Herrera Maysa Clutch.
Letizia teamed up the look with her Gold & Roses Shewel Triple Hoops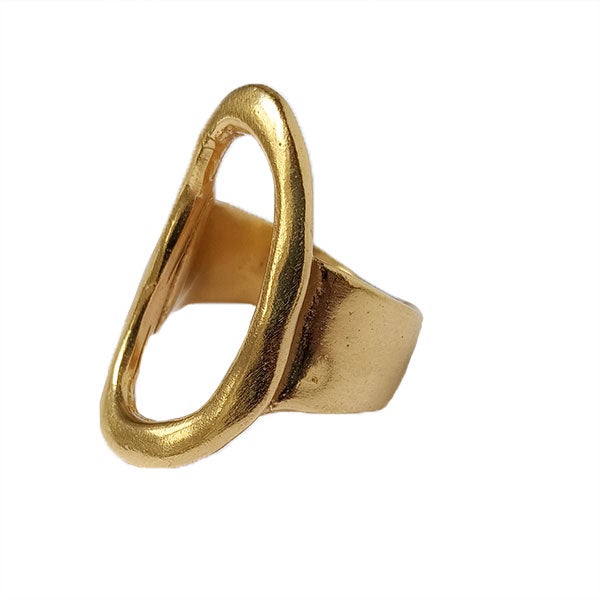 and Karen Hallam ring.
Earlier today, The Royal Palace released the Christmas portrait of 2022 which is a picture of Princess Leonor and Infanta Sofia taken this autumn in the gardens of the Royal Palace of Zarzuela.