Today, Queen Letizia of Spain was at the Yuso Monastery in San Millán de la Cogolla in La Rioja to attend the Inauguration of the XIV International Seminar on Language and Journalism: "Spanish and machines: language, ethics and journalism".
Since 2006, the seminar is organized by the San Millán de la Cogolla Foundation and the BBVA Fundéu, promoted by the EFE and BBVA Agency and endorsed by the Royal Spanish Academy.
After receiving the greetings of the authorities and attendees, Letizia took her seat in Auditorium.
At the annual event, that brings together prestigious journalists and language experts, various issues related to journalism and the Spanish language from a social, psychological point of view, philosophical, linguistic, and journalistic and communication, in general, are discussed every year. Some selected students also attends the seminar.
During the seminar, a debate on "Spanish and machines: language, ethics and journalism" was held by the CEO of the Fundéu BBVA. The seminar is organized around three debates:
"Artificial and ethical intelligence", with the questions Can machines lie? Does advanced artificial intelligence call into question the intellectual superiority of humans? And our place in life? Will machines make decisions for us? The emergence of artificial intelligence is a new challenge, an ethic for new times.
"Journalism and machines." There is already machine-made journalism, or is that not journalism? Can you get to do it? Can you get to occupy the position of a professional and leave only one aspect of journalism to professionals?
"Spanish and machines", How machines are speaking Spanish? Who teaches them to speak and with what varieties and biases? What do they know about emotional nuances? What problems arise of machine translation?
During the visit, Queen spends time with some students.
Before leaving, Letizia received the greetings of the public.
For the day, Queen Letizia wore a chic and elegant attire. She debuted Boss Ferora Beige Vee-Neck sweater.
A long-sleeved sweater by BOSS Womenswear, knitted in virgin wool. Offering a regular fit, this sweater features a flattering V neckline and a deep hem and cuffs in slub-yarn ribbing for understated detail. It is not available any more.
Embed from Getty Images
Letizia paired the sweater with her black high-waisted trouser with a built-in belt. The trouser looked like a new addition to her wardrobe.
Queen topped the trouser with a new Leather belt from Boss. The £119 belt is made from perforated cowhide and featured a gold buckle.
Another new element of her look was Steve Madden Dalia Pumps.  This slip-on design has a high stiletto heel, curved vamp and a pointed toe that has contrast black detailing on it. The $140 Pumps are available on Yoox in limited sizes.
Letizia was carrying a two-tone Adolfo Dominguez bag.
Her Gold & Roses Crawler Skyline Earrings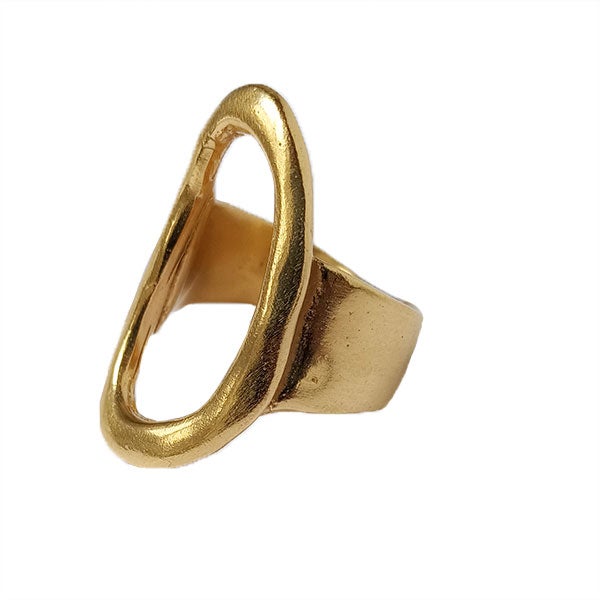 And Karen Hallem Signature sterling gold-plated ring finished the look.
Dress Like Queen