Queen Letizia of Spain today visited Cáceres, Torrejoncillo to carry out an annual engagement of School session opening. Every year after summer vacation Letizia opens academic session at school. This year she visited two schools in Cáceres.
Earlier in the day, Letizia visited the Battle of Pavia, where she welcomed by eager members of the public.
The Center for Early Childhood and Primary Education "Battle of Pavia" is a public Primary Integration Center, which houses all facilities for preschool and early childhood education. Recently it celebrated 25 years of its inauguration.
She discovered a plaque commemorating the visit. After meeting with the staff, Letizia toured the school.
Letizia spent some time with school pupils in classroom of Grade 2 learning the techniques school used to educate kids.
Queen who is also a mother of two adorable daughters was in full mother mode when she was seen sitting on the ground with students of class 4.
Letizia with school kids.
Letizia stood for a group photograph before leaving for the next stop.
The second stop was the Institute of Compulsory Secondary Education "Vía Dalmacia". After greeting the staff, Queen held a brief meeting with the staff of the institution.
The Institute of Compulsory Secondary Education "Vía Dalmatia" is a bilingual public centre under the Ministry of Education of the Government of Extremadura whose mission is to meet the needs and demands in the field of ESO, PCPI and CYCLE; educate students taking into account the diversity of their personal characteristics; provide students with good training, both academic and human, to prepare them for later stages of life, provide quality education, attentive to the changes generated by social evolution; and project educational and cultural work in the life of the region.
Letizia visited the Technological Classroom, where the students of 4th class of ESO also perform technical activities. Queen toured the Drawing Class where activities are carried out outside school hours or inactive recesses and the Radio Studio.
Letizia during the tour of the school.
A moment with the public before leaving.
A video of the day.
For the day, Letizia wore a chic style. She was wearing a loose white blouse.
The blouse feature a keyhole with a front top button fastening and asymmetric sleeves.
Queen paired the look with black Uterque Contrast Belt Trousers. The €89 trousers are made of flowing fabric with a contrast belt, darts and zip fly fastening.
The trouse is still available online in all sizes. A closer look at the belted trousers.
Keeping the lengthy and busy day in mind, Letizia wore black velvet Nina Ricci kitten heel pumps. The low heel pumps are not available any more.
Letizia finished her look with Gold & Rose white gold and diamond double dagger earrings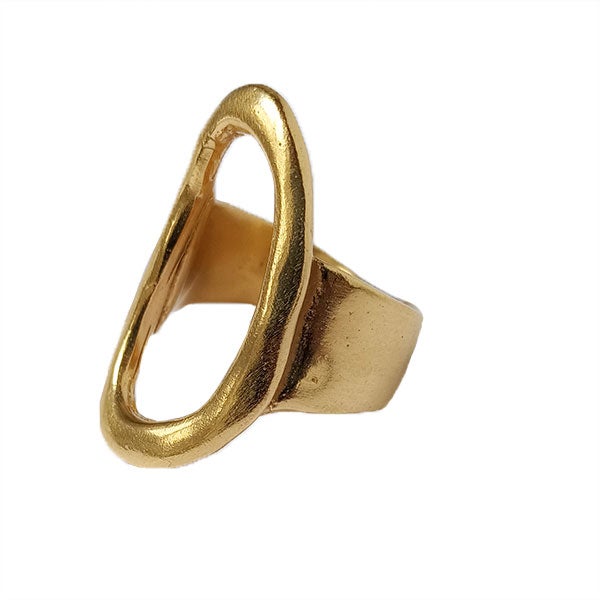 and her Karen Hallem ring.