In a year of tough global challenges, The Duchess of Cambridge has stood out as a shining example of royal fortitude and diplomatic style. She stepped into the limelight with her two most high-profile projects – Hold Still and the '5 Big Questions' survey, and saw both the projects blossom with public support.
Embed from Getty Images
The royal fashion year got off to a good start when The Duchess of Cambridge, accompanied by The Duke, debuted a mixed blue and umber weave Roksanda coat, with Hicks & Brown fedora, for the Sandringham church service on January 6. The Duchess then had a busy January and February, begun by joining Prince William for a day in Bradford. She chose a new green Alexander McQueen coat, plaid Zara dress, and an eye-catching Aspinal of London croc bag.
On January 20, The Duchess of Cambridge debuted a new designer for a reception she co-hosted with The Duke of Cambridge at Buckingham Palace, on behalf of the UK-Africa Investment Summit. This whole look is one of my personal top three of 2020; the vintage lace and tulle sequined red dress from UK retailer Needle & Thread was a stunning choice.
Next day marked the start of a milestone project for the Duchess. With a visit to the Thinktank Science Museum in Birmingham, HRH kicked off a landmark survey on early childhood. She began a UK mini-tour to launch her '5 Big Questions' survey, which became a huge success by the time autumn arrived. Catherine has worked with experts and learned about the impact of experiences such as addiction and social exclusion on early childhood. The survey gave people across the UK an opportunity to give their own views on raising the next generation.  For the launch, she combined a green chevron blouse from Tabitha Webb with wide-leg trousers from Jigsaw. She debuted a new torque bangle from Halcyon Days, previously seen on the Countess of Wessex and Lady Amelia Windsor in other colours.
The following day, she travelled to a Cardiff children's centre in Wales, wearing a Massimo Dutti camel coat and Zara animal print skirt. She also had a new necklace with the initials of George, Charlotte and Louis, most probably a Daniella Draper piece. Catherine then attended the Holocaust Memorial Service at Westminster Central Hall with William on January 27, wearing a repeat grey fitted Catherine Walker coat. Later her moving photographs of two Holocaust survivors were released by Kensington Palace.
After visiting her patronage Evelina Children's Hospital in a Dolce & Gabbana boucle suit where she took part in a creative workshop, January ended with Catherine's trip to Stockwell Gardens Nursery & Preschool in London.  She enjoyed some fun time with the children while wearing a white lace collar Sézane jumper, UFO petrol blue coat, and new Aquatalia boots. The visit was part of the 'Big 5 Questions survey' and it was revealed that more than 100,000 people had already taken part in the first week.  Catherine also recorded her first-ever podcast with Giovanna Fletcher, who accompanied her on the Stockwell visit, and who later revealed William secretly came along to support his wife.
February started with a McQueen repeat from the 2012 Jubilee tour at the Baftas where attendees were asked to re-wear something of their own. I recall quite mixed reactions to the gold embroidered dress, debuted in Malaysia, but Catherine stunned with an amazing updo and new jewellery from Van Cleef and Arpels.
On February 4, The Duke and Duchess of Cambridge went to South Wales, where Catherine wore another of my top three 2020 outfits. I totally loved the red-blue combination and I was so glad to see their happy, relaxed interactions. I am a huge fan of the new navy Hobbs maxi coat, with a plain red Zara dress, and a new heart-print scarf from Beulah London, a brand I would love to see her wear more often. Catherine wore a navy McQueen suit for a joint engagement at the Defence Medical Rehabilitation Centre with the Prince of Wales and the Duchess of Cornwall. McQueen was a significant choice as it was the tenth anniversary of Lee Alexander McQueen's death.
Next day, she took her early years study to Northern Ireland, visiting a farm in a Barbour jacket, switching to her quilted Seeland jacket, and both with a lovely blue turtleneck from Pure Collection. Travelling on to Aberdeen the same day, and spending time in a café, she re-wore her long grey 2013 Reiss jacket over the Pure cashmere.
February closed with, first, a visit to the "Dear Evan Hansen" musical with Catherine wearing a chic boucle Eponine London dress, and, second, an engagement with SportsAid, patronage she has had since 2013. Catherine looked great in her Smythe blazer, green Mango top and Zara culottes, plus Marks & Spencer (M&S) sneakers.
On March 3, TRH started their three-day visit to Ireland with Catherine arriving in a lovely green Catherine Walker coat and not-so-fan-favourite Alessandra Rich print dress. For the evening ambassador's reception, she returned to a metallic green and debuted a brand, The Vampires Wife, a favourite of Princess Beatrice.
For day two, we saw the return of a white Reiss coat from William's 2008 RAF graduation, a repeat Equipment polka dot blouse, Zara jeans and new Russell & Bromley boots. The new earrings from Daniella Draper, which she continued to wear throughout the year, were a nod to Ireland's national symbol, the shamrock. Catherine later changed into a jacket from Irish brand Dubarry, a Barbour shirt, and her beloved Penelope Chilvers boots for a farm visit and an afternoon hike over cliffs.
For the evening reception at Ireland's Museum of Literature, she chose a vintage Oscar de la Renta dress. For the final day in Ireland, with lots of handshakes and well-wishers, the Duchess began by wearing a romantic spotted Suzannah London dress, under her green McQueen coat from Bradford.  For the last sports engagement, Catherine changed into a bright coral Really Wild sweater and Zara jeans.
Back in London, HRH opted for a beloved fan favourite, and number 3 of my personal top three of 2020, a red Catherine Walker coat with matching new hat from Edinburgh milliner Sally-Ann Provan. Her updo was gorgeous and her drop earrings were made from a necklace which had been a wedding gift. On the same evening, The Duchess brought back the stunning deep blue Jenny Packham gown from the India tour for her Place2Be Reception at Buckingham Palace. Her floral Erdem drop earrings that night sparked much comment.
At the beginning of March, the world began to change, as Covid-19, spread across the globe, reached the UK. For a joint visit to London Ambulance Croydon control room with Prince William, Catherine wore a pink M&S crop-pant suit. Meeting front line workers and thanking them for their work was the last time we saw the couple out and about for several weeks following the "stay at home" order.
After the spring break, the "season of Zoom calls" started from Anmer Hall, with The Duke and Duchess of Cambridge talking to teachers and school staff from Casterton primary academy on April 9, Catherine wore a sunny yellow Zara sweater. Next came their appearances on BBC Breakfast club to show support for new NHS mental health projects. The highlight of April was definitely the Cambridge family clapping for all the carer heroes in the front of Anmer Hall, all in blue, with Catherine in a flowing Ghost dress.
Catherine´s May started with video calls to parents of newborn and midwives of Kingston Hospital (Tabitha Webb blue chevron sweater), where she had spent time in November 2019, and a roundtable discussion with experts in the maternal mental health field (Michael Kors floral print dress).
To mark the start of her "Hold Still 2020" photography project, asking for UK submissions of photos that marked the national lockdown, she did an interview with ITV´s This Morning. She was wearing a really precious spring tea-dress from Reay with lovely tree print, which I would love to see full length.
For zoom calls to veterans for the anniversary of VE day, Catherine chose her red LK Bennett Cayla dress from Wimbledon 2015, for her outing on International Nurses day she brought back her blue Altazurra dress and new earrings from Patrick Mavros. For a call with Shout Volunteers, she debuted a delicate white Sandro Paris cardigan, in a video message for Mental Health Awareness Week we saw a new red print dress with white collar from Beulah London.
May ended with my favourite video call ever, the Duke and Duchess playing bingo with Shire Hall Care Home Cardiff. Wearing a red LK Bennett dress from 2019 it was just so lovely to watch, a very entertaining call.
For video calls in June, Catherine wore her yellow Roksanda Ilincic dress (First responder day in Australia), her MiH Jeans broderie shirt (Volunteer week) and dresses from Hobbs London (red for virtual visit Clouds House), blue Stella McCartney (Hold Still Video), blue floral M&S (Oak National Academy video), and green Diane von Furstenberg (Children´s Hospice Week).
Her first public engagement since March 2020 was a visit to a local garden centre near the family's country home in Norfolk on June 18. She wore a new padded Fjällraven vest, linen Jaegar shirt, and Massimo Dutti trousers, with her Superga sneakers.
One of my personal favourite engagements of the year was her visit to the Nook Hospice during Children´s Hospice Week. Catherine met patients, their parents and also planted a sunflower, bought on the garden centre visit the week before, for a boy who sadly passed away. The Duchess wore a new multi-colour floral print dress by Faithfull the Brand. In a video message marking Canada Day on July 1, The Duke and Duchess of Cambridge talked to frontline medical workers at Fraser Health's Surrey Memorial Hospital in British Columbia. Catherine debuted a tweed McQueen dress, which subtly featured the red-and-white of the Canadian flag in its weave.
Accompanying The Duke, The Duchess of Cambridge, wearing a lovely printed white-collar blue Beulah London dress, attended an afternoon tea party at Queen Elizabeth Hospital in Kings Lynn, about 20 minutes from their Norfolk home, to celebrate the hospital's 40th anniversary. Next, she tried a new label, wearing a tennis print dress from HVN when she made a zoom call to mark Wimbledon. Joined by Andy Murray she talked to students from Bond primary school in her role as patron of All England Lawn Tennis and Cricket Club. For the launch of the BBC´s Tiny Happy People project, The Duchess of Cambridge wore a lovely black and white polka dot Emilia Wickstead dress.
For the last engagement in July, The Duchess of Cambridge wore one of my favourite dresses of the year by Suzannah. I really loved this fresh leaf-print white summer dress for their meeting with four charities, which will benefit from a £1.8 Million COVID-19 Response Fund set up by The Royal Foundation.
Launching a new initiative, which helps babies & young children by donating more than 10,000 items from a group of UK retailers on August 4, The Duchess of Cambridge repeated her plain white Suzannah London shirt dress from Wimbledon 2019.  I think this is also the first time we saw Catherine wearing a face mask from Amaia kids. The brand was her choice for masks for the rest of the year, in different Liberty prints. For a visit to South Wales, The Duchess of Cambridge brought back her rose print Wickstead dress, from September 2019 at RHS Wisley. A highlight was the visit to Cardiff, where they met with those who took part in their bingo match back in May.
After their summer holidays, The Duke and Duchess and their children returned to London at the beginning of September. For several in-person visits with her husband to local communities, including a London jobcentre and a Mosque, Catherine brought back her red Beulah London dress, which she wore for the mental health video in May, paired with new neutral pumps from Ralph Lauren.
On September 22 she wore a white Ralph Lauren tee and the trousers from her pink M&S suit for a meeting with parents at Battersea Park. She also debuted a new necklace by Irish brand All The Falling Stars. The personalized necklace was given to Catherine during Galway visit in March. For a movie date with Sir David Attenborough in the garden of Kensington Palace, she wore a new light blue denim dress by Gabriela Hearst and also new earrings from Patrick Mavros.
For the last September engagement, The Duchess of Cambridge was out for the first time as joint president of the Scout Association taking part in some fun games with West London Northolt Scout Group, wearing a Massimo Dutti linen shirt and cotton mix skinny trousers, plus her Really Wild nubuck vest. On October 1 Catherine, in a joint call with William, brought back her yellow Dolce & Gabbana dress from Wimbledon in July 2018 to make contact with business owners and first responders from Kangaroo Island in South Australia.
To mark World Mental Health Day, The Duchess visited the University of Derby on October 6. She chatted with students about methods to reduce the stigma of mental health. A chic new houndstooth coat and plain blue sweater by Massimo Dutti made their debut, also a pair of crop trousers from Joseph. Next day Catherine wore a new cornflower blue belted dress, probably from Catherine Walker, when photographed at Buckingham Palace with her husband meeting the President and the First Lady of Ukraine. We also saw a new sapphire pendant necklace, created using pieces owned by Princess Diana.
For the Wildlife Photographer of the Year award ceremony in which she announced the winner, The Duchess of Cambridge wore a stunning black satin lapel McQueen pantsuit. I would LOVE to see more of these on her. To mark the baby loss Awareness Week the Duchess visited Imperial College, London, on October 14, wearing a royal blue belted Wickstead dress from November 2019.
To launch the Hold Still 2020 community exhibits a week later, Catherine wore a stunning red maxi coat from McQueen, Zara skirt, and new Grace Han bag. More than 31,500 images were submitted, and 100 of those were selected to be part of an online exhibit also featured on 80 posters around the UK. It was great to see Prince William come along to support her.
For a Pride of Britain Award video, The Duchess of Cambridge was in her Smythe blazer and a new Lisou Betty rainbow print shirt, and on Remembrance Sunday we saw her in Catherine Walker coat and Phillip Treacy hat.  In honour of Remembrance week, The Duchess made several calls to families who lost loved ones who had served in the military, wearing a new black and white Ghost London blouse.
For her Hold Still "thank you" video at the end of the exhibition, The Duchess brought back a popular red Zara jacket from August 2012. She also called people who took part in her project and wearing a scallop-detail yoke blue cardigan from Boden and new Catherine Zoraida earrings. On November 21, Kensington Palace released a video call from the Duke and Duchess of Cambridge with participants from Future men, where she wore a new Michael Kors blouse.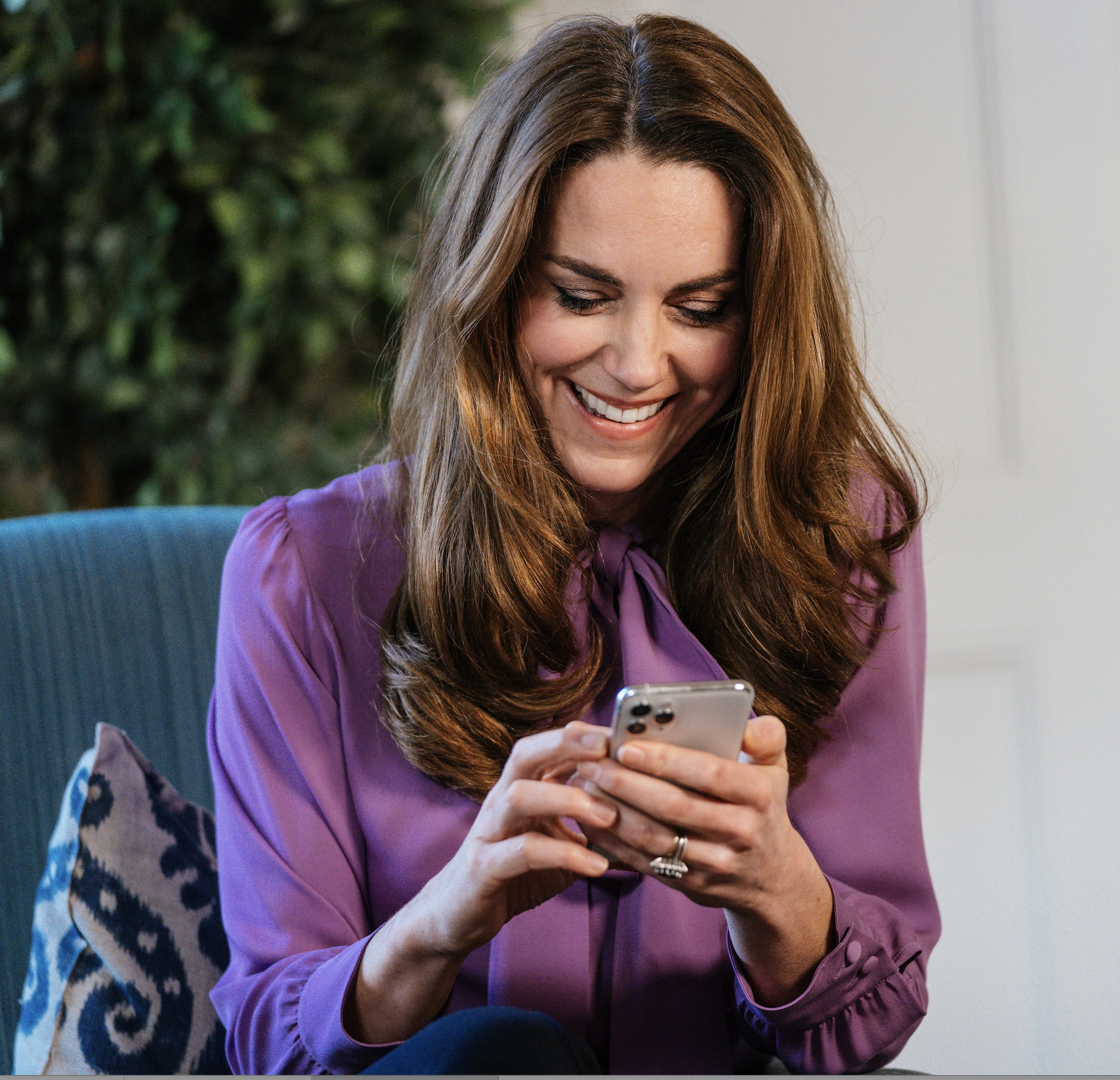 The Month of November brought her 'Early Years Intervention' to its next milestone. In videos where The Duchess spoke about the '5 Big Questions' survey results, she wore Massimo Dutti pieces, her Zara jacket, her M&S suit, her 2012 Reiss dress, a new Gap sweater, her Equipment blouse, and a new jacket from Barbour. And for the last engagement of November, in an online Q&A, Catherine wore her deep purple pussy-bow Gucci blouse.
December brought us a mini-tour, some said a coat tour, which I truly enjoyed. For the London start on December 7 The Duchess of Cambridge brought back her bespoke McQueen coat, first seen in January, and repeated her Maple Leaf tartan scarf from Canada 2016.
Arriving in Edinburgh on day two, the Duchess was in a lovely bright blue Catherine Walker coat we first saw in Norway in February 2018. She carried a new Strathberry bag, and wore her trusty Ralph Lauren boots, later switching to a low-heeled Stuart Weitzman repeat pair.
Travelling to a West Yorkshire community centre, Catherine changed into what I call my favourite outfit of the tour. She brought back her Hobbs London coat, which we saw in Wales, Emmy London pumps, and wide-leg Jigsaw trousers, carrying a new brand, Metier London, shoulder bag.  Back in Manchester the TRH visited Fair Share UK, Catherine having changed to a new Fair Isle pattern jumper, from Scottish brand Brora, under her open coat.
Beginning the last day at Cardiff Castle, The Duchess was in a red McQueen coat, first seen in October, and her 2018 Wickstead tartan skirt with matching scarf.
For their final engagement, reunited with the senior royal family back at Windsor Castle, The Duchess chose her green Catherine Walker coat from March Dublin visit, changed up with faux fur collar and the Queen's sparkling diamond frame earrings.
Closing 2020, Catherine was in Alessandra Rich for visiting the London Palladium with her family, delighting fans when the kids joined their parents for the red-carpet walk. She carried a Smythson cross-body bag and repeated the Simon Rocha pearl drop earrings which had made their debut during NHM Award winner announcement. With this event, the couple pulled off their second winter lockdown flashbulb moment, after the floodlit scene at Windsor Castle.
To end fashion for 2020, on the family's Christmas card Catherine wore her 2019 Sezane blouse; the red sweater remains UFO.
Summing up 2020 I would say, the fashion-wise lockdown was a challenge, but Catherine still debuted highlights such as the Hobbs coat and the Needle & Thread dress. We need to note that some huge events were cancelled this year. I really hope next year might see traditional dates like Order of the Garter, Ascot, Wimbledon, Trooping the Color, Buckingham Palace receptions, the Christmas lunch, and the Sandringham Christmas church service coming back.
On a personal note, I would love to see Catherine in more repeats. It was great to see her in familiar pieces, such as the Reiss coat and dress, the Zara blazer or the green Diane von Fürstenberg dress. It is important and diplomatic right now to find a balance between new and old pieces. Also, it seems she developed her style towards wearing more trouser suits, which I absolutely love. I adore HRH Crown Princess Mary, for instance, in all forms of suits.
What stood out for me in Catherine's 2020 was that, by choosing topics she is passionate about, she had a greater chance to shine a light on them and have an impact. I read a lovely sentence on Twitter from Karleigh Smith, a California journalist, who wrote that the Cambridges 'speak TO people,' whether it was playing bingo on Zoom, or visiting frontline workers during the rail tour. It's possible to feel their genuine interest in getting to know people and their problems.
During the year we saw the results of her busy private schedule of autumn 2019. She is now firmly focused on Early Years, and determined to find answers, wants to understand the topic she is talking about. She has earned great respect by working quietly in the background for years and is now becoming more visible with her projects. She is still growing into her royal role and I hope the success of 'Hold Still 2020' and the '5 Big Questions' will help boost her confidence as she prepares to become the next Princess of Wales. She is making her way from motherhood to a future Monarch (Telegraph, March 2020, Camilla Tominey) and I can´t wait to see what 2021 will bring.
Please stay safe & healthy, take care. Happy New Year!
Christin // PackhamGown